Corporate Philosophy
Our mission is to offer the best quality product and service to our clients. We aim to establish permanent growth and development within our company.
We respect the individuality of our employees and provide them with a safe and stress-free work environment.
April 1, 2006
Message from President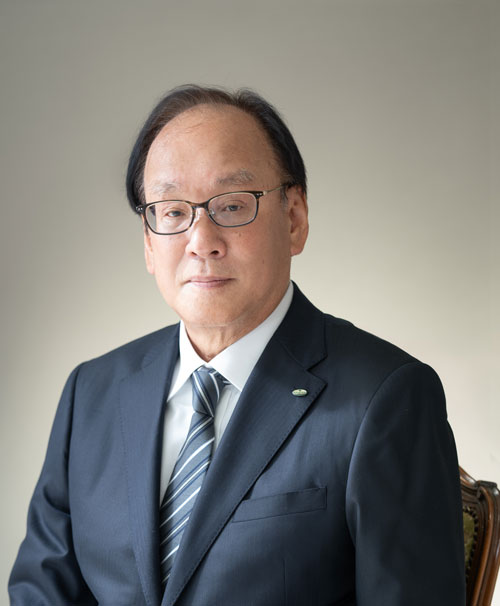 President: Kiyoshi Fujinaga
Japan Kanigen Co., Ltd. was established in 1955 as the first company in Japan to provide electroless nickel plating services and manufacture and sell plating solutions. For over a half century since then, the company has been receiving great support and trust from customers.
The company name, "Kanigen," is a combination of the first syllables from the words, "C(K)atalytic," "Nickel" and "Generation."
The name, "Kanigen plating," is renowned throughout the market and is synonymous for electroless nickel plating. Capable of plating parts and components of various materials and shapes, this high-performance plating method provides high plating thickness uniformity, corrosion resistance, abrasion resistance, self-lubricity and other superb features.
We take pride in responding to the needs of a wide range of industry sectors such as the automobile industry and contributing in our own ways to their development and expansion through electroless plating technology since the foundation of our company.
In 2002, Kanigen joined the Nihon Parkerizing Group, the largest enterprise in Japan in the field of surface treatment. As a global company with an eye on not only the domestic market but also the markets around the world, we will strive to expand our business through the Re-Branding "KANIGEN" as a global brand.
By combining the Parkerizing Group's superb surface treatment technology with our electroless plating technology, Kanigen continues to enhance and refine its original research and development capability and manufacturing technology in an effort to contribute to the further advancement and development of plating and surface treatment technologies and also to fulfill our social responsibility and missions, including preservation of the global environment.
In these efforts, we count on your continued support of our company.